Elementary IC 2022-2023 Meet the Teacher

On Monday and Tuesday of next week (7/25 and 7/26) ICISD will be hosting an Active Emergency Incident Training (i.e. Preparedness, Responses, Evacuation and Transport Drills, Mitigation) at our school facilities. Approximately 30 Emergency Response personnel will be on site including representatives from Law Enforcement, Fire Department, EMT, etc. and their response vehicles and equipment; as well as the Emergency Management Training and Response Coordinator from the Region 15 Service Center in San Angelo and State Safety and Response Trainers. Do not be alarmed, and please stay clear of school facilities during the training. Special Thanks to Dr. Parker, Ms. Chapman, Rusty Fleeman of R-15, Monte Johnson of Alert Century Security, and Ben Heinze of Stop the Bleed for coordinating the trainings. Thanks for your continued service to and support of ICISD as we attempt to provide the best and safest facilities possible for all students, staff, and campus visitors.

IRION COUNTY REGISTRATION DATES 2022-2023

Kinder and 6th Grade Graduation!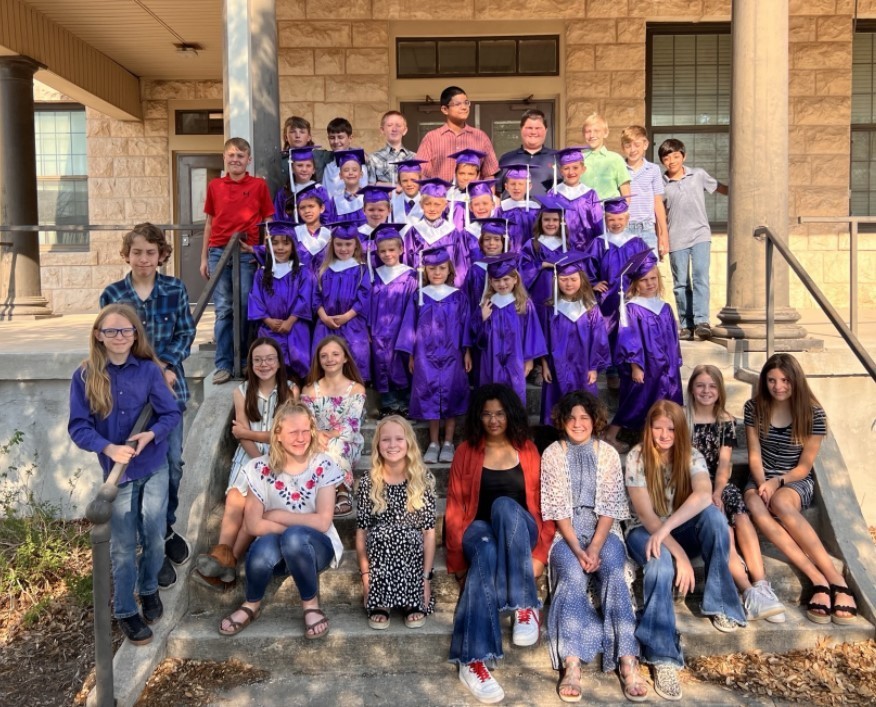 2021-2022 IC Athletic Banquet

Track State Send off! #Sting'em

Senior Decision Day

Library Books

State UIL Update: Audrey Tillman is the 1A State Gold Medalist in Ready Writing! Congratulations to our newest State Champion! 💜

Congratulations to the Hornet Math Team and their Coach Ms. Lamar! 3rd place team @ State UIL! Way to go Hornets!

JH Tennis is in the books for 2022 and although it was a short season it was a great one! District medalist include: Silver medalist Boys Singles— Kyle Olivan District Champion Girls Singles—Kyleigh Yant District Champion Girls Doubles—Presli Cormier & Baylee Rainey Bronze medalist Girls Doubles—Isabella Garcia & Karsyn Spicer The girls were District Champion team #stingem

DESDEMONA IN THE AFTERLIFE: AN ENCORE PRESENTATION Presented By The Hornet Theatre Company Come wish our seniors well as they take a final bow on the high school stage. Billy McDaris Auditorium Thursday, May 5th Doors open @ 6:30 Curtain up @ 7:00

We have at least 3 kids headed to State in a couple of weeks! Tayte Cormier was first in the Boys 2 Mile, Kaegen James (1st) and Audrey Tillman (2nd) dominated the Girls Long Jump! More updates and full results to come! #stingem


The girls did great in Triple Jump this morning finishing 1st and 3rd! Kaegen will now be competing at State in LJ and TJ and Audrey in LJ, with more opportunities to come this afternoon! Great job so far ladies! #stingem

Girls sprint relay headed to State after placing 2nd at the Regional meet! Audrey placed 3rd in the 100m Dash for 6pts and Berkley ran tough in the 400m Dash for 4 more points placing 5th overall! #stingem

Girls Regional Track Champions!!! #stingem

Trevin Coffell overcame a hurdle bump and took second place at the finish line! Taye Cormier and Trea Melton dominated the mile, finishing 1st and 2nd! All 3 will compete at State next week! #stingem

JJ Harrison placed 2nd in the Triple Jump and is headed to State! #stingem

Tayte and Melanie fell short to a solid Utopia team (1-6, 5-7), but they fought to the bitter end. We are proud of their silver medals, second in the state is nothing to hang heads over at all! UIL tournament officials vote on sportsmanship during the state tournament for each classification, Tayte and Melanie were awarded the 1A Tournament Sportsmanship award! #Sting'em